Guide to Portage Parks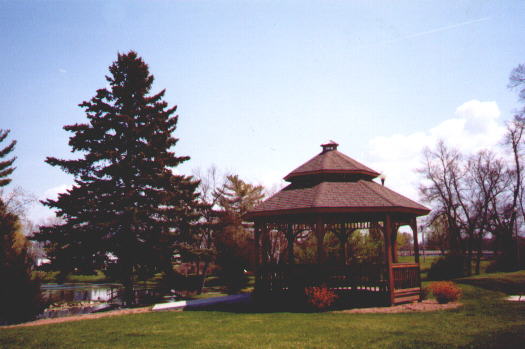 Park Ordinances
Listed below are the City of Portage ordinances which should be observed by all persons in order to keep your parks safe and beautiful:
**City parks are open between 8 a.m. and 10 p.m.
**Glass containers are prohibited in all parks
**Dogs, cats, or littering in parks is prohibited
**No motor vehicles in park area

Below is a list of all of Portage's Parks. Read a selection to see more about the Park...
Pauquette Park

This 8.8-acre park is the most picturesque park in Portage. It is located at the west entrance of Portage at W. Conant Street and Highway 33. This park bears the name of Pierre Pauquette, a famous fur trader-translator for the French and Indians. Pauquette operated a ferry from 1828-1857 and a marker is located near the "Pauquette Park" sign on the north side of the bridge. Originally used as a brickyard, Pauquette Park was later dredged to form the present pond. William Armstrong, owner of "Armstrong Brick Yard" obtained this land from the U.S. Government in 1869 and used it to produce bricks for the construction of homes in Portage. Attorney Charles H. Hall donated the land to the City of Portage in 1924. This park has two shelters, electricity and water at both shelters, picnic tables, cooking grills, basketball court, band gazebo, play equipment, skating and fishing pond, flower gardens and walking bridge and path (Pictured below.) A bridal arch (pictured above) is located on the east side of the park, which was erected when a couple on their honeymoon missed the turn and drowned in the pond. Pulitzer Prize winner, Zona Gale, wrote the short story "Bridal Pond" in memory of the couple.
Collipp-Worden Park

This 16.5-acre park is named after Conrad Collipp, who owned one of the first brickyards in Portage, and the Worden Family, who sold the property to the City of Portage in 1968. Development of the park started in 1975 through LAWCON and City of Portage funds. This park is located on Slifer Street, two blocks west of Highway 51, has two shelters, one with restroom facilities, basketball court, tennis court, sand volleyball, horseshoe pits, softball diamond, water , electricity at both shelters, large playgroud area with equipment, cooking grills, picnic tables, and ample parking.
Sanborn Park

Home of the second brick yard in Portage, Sanborn Park is named after the Sanborn Brothers, James and Frank, who owned and operated the Sanborn Brick and Ice Company in the 1800's. The 1.3-acres, located on the corner of Sanborn Street and Carroll St, was used as a city dump after it was donated to the City in 1939 by Charles Smith. Today this park has a small shelter, water fountain, cooking grills, basketball court, youth softball diamond, and play equipment.
Sunset Park

Originally owned by the Tenant Family, Sunset Park was donated to the City of Portage in 1931 by Zona Gale Breese and Eleanor Breese to be used solely for public park purposes. The stone wall and steps were landscaped by Betty Tenant through one of the President Roosevelt's New Deal programs of the 30's. This park has 4.5-acres and is located at W. Plesant Street and Sunset Street. There are two shelters, only the large shelter has electricity, water and restrooms. The park has sand volleyball, horseshoe pits, tennis court, picnic tables, cooking grills, and play equipment.
Sunrise Park(The Gully)

Known to most Portage residents as "The Gully," Sunrise Park is our winter sledding area. The land sat vacant after the Jones Family donated the property to the City of Portage in 1933. The Portage Lions Club then developed Sunrise Park in the early 70's through Lion's Club and LAWCON Funds. Today the "Gully" consists of 5-cares and has picnic tables, ball field, cooking grill, a shelter, play equipment, and nature walking trail. It is located on S. Hamilton Street.
Lincoln Park

As is the case with many small mid-western cities, Portage has a park bearing the name of our 16th president. Chauncy J. Pettibone donated this property to the city of Portage in 1874. A school was erected shortly afterwards and remained standing until the 1940's. Often referred to as the "2nd Ward Park," this 1-acre park, located on Monroe Street and Howard Street, has a small shelter, basketball court, picnic tables, cooking grills, and play equipment.
Cattail Park

This 1-acre park is located on Burns Street and Armstrong Street. It is equipped with a softball backstop, a small shelter, some play equipment, and an open play area.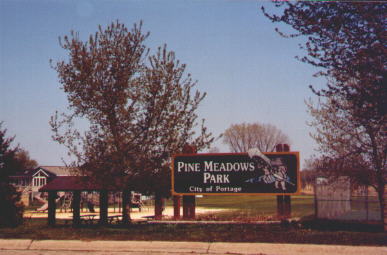 Pine Meadow Park

This 4.5-care park is located north on Hamilton Street and has play equipment, lighted shelter, tenis courts, and a youth softball diamond.
Woodridge Park

This 4.5-acre park is located on Winnebago St. in the Oak Ridge subdivision on the north side of the city. This park is the home of the city Arboretum, with over 50 different species of trees. The park has a small shelter, with water and electricity. It also has a small play area, and a cooking grill for the neighborhood.
Bluestar Park

This 2.3-acre wayside park is located on Highway 51 and Slifer Street. The land was granted to the City of Portage in 1952 by several private land owners and the State of Wisconsin, to be used strictly as a park. The park has picnic tables, grills and a drinking fountain for tourists to use as they pass through Portage. The park is now the home of the new Portage Veteran's Memorial.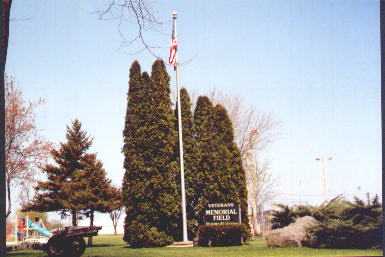 Veteran's Memorial Fields

This 41.9-acre park is located in the First Ward, on the south side of Portage between Superior Street and Wauona Trail. This is the home of the Columbia County Fair Grounds, Little League Baseball, and five ball fields. This area hold many of the City wide celebrations and major softball tournaments. It has play equipment, hockey rink, restroom facilities, showers, camping, R.V. facilities, and much more.
Riverside Park

With the Wisconsin River just a few feet away, this park has an appropriate name of Riverside. Columbia County and some private land owners donated the land to the City of Portage in 1867. The shelter was erected in 1924 and the city slogan of "Where the North Begins" can be found on the top of the shelter. There park is 2.1 acres and is located on E. Wisconsin Street. This is a wayside park with a large open shelter, picnic tables, and benches.
Silver Lake Park and Beach

Open from Memorial Day weekend to Labor Day weekend this is one of finest beaches in the area. Silver Lake Beach has been a popular meeting place along Silver Lake Drive since the property was donated to the City of Portage in 1948. A boat landing and large parking lot are located on the 2.5 acres to aid the fisherman and water skiers. Crappies, Large Mouth Bass, Blue Gills, and Northern Pike and just a few of the fish that can be caught in Silver Lake. The park area has an open shelter, swimming area, changing house, water, electricity, picnictables, cooking grills, floating raft, and play equipment. Lifeguards are on duty during normal beach hours.
Goodyear Park

Donated to the city of Portage in 1903 by D. A. Goodyear, this 1.5-cre park is located at the corner of DeWitt Street and MacFarlane Road, along side of the Portage school property. This park has a small shelter, water, cooking grills, picnic tables, play equipment, and large open play area. Two monuments are located in the park to honor those who served our country.